20 October 2017 | Gaurav Sharma | Lombardi Letter
Erik Prince Net Worth
Erik Prince is a former U.S. Navy SEAL, an American businessman, and a billionaire with a net worth of $2.4 billion.
Erik Prince's net worth has been largely influenced by him selling his business Blackwater Worldwide (which has since been renamed Academi LLC). First, he stepped down as CEO in 2009, but he stayed on as chairman of the company. In 2010, however, Prince gave up his chairman title and sold off the business to a group of investors.
The business is focused on providing security services to the United States federal government.
How has Erik Prince gone from being a U.S. Navy SEAL to a multi-billionaire businessman? This will be explained further below, along with answering other questions.
Who Is Erik Prince?
Erik Prince was born in 1969 in Michigan, as the youngest of four children.
He experienced firsthand what it was like to run and manage a billion-dollar company through his father, Edgar Prince. Edgar Prince founded the Prince Corporation in 1965, which focused on supplying the automobile manufacturing industry.
As the business grew, Edgar Prince diversified his business holdings by investing in the ability to create different car parts for automobile companies. He also started to invest in shopping malls, years after starting the car part company. The business resulted in Edgar traveling quite often around the world. At times, Erik would join his father and absorb the business experience.
As Erik became older, he gained interest in the Navy and was accepted into the United States Naval Academy. He attended the school for three semesters before leaving the academy. Erik loved the Navy and everything it stood for, but hated how the academy was being operated.
Erik Prince was determined to complete further education, and he received his bachelor of arts (BA) in economics from Hillsdale College in 1992. While attending college, he volunteered as a firefighter and as a cold water diver for the local county sheriff's department. This then led to Prince becoming an emergency medical technician.
While in college, he worked at the White House as an intern under George H.W. Bush. Eventually, Prince left that internship and landed another internship with California congressman Dana Rohrabacher, a former speechwriter for President Ronald Reagan.
After completing college, Prince became an officer in the United States Navy. He went on to become a Navy SEAL and was deployed in Haiti and the Middle East.
By the age of 23, Prince had already been exposed to the Navy, the business world, higher education system, and politics. After serving in the U.S. Navy for a couple of years, he left and took control of the daily operations of Prince Corporation when his father passed away. After taking control of the company for a year, Erik Prince's mother decided to sell the business for $1.3 billion to Johnson Controls International PLC (NYSE:JCI). (Source: "JCI buys itself a Prince," Wards Auto, August 1, 1996.)
While in the Navy, Prince noticed a need for private training facilities for special operations forces. In 1997, he purchased 6,000 acres in North Carolina to set up a school for special operations. The business venture, Blackwater, was self-funded by Prince.
Source of Wealth for Erik Prince 
From 1997 to 2010, Blackwater was awarded $2.0 billion in government security contracts. There were also contracts in place with unclassified government departments.
One of the largest divisions that impacted Blackwater's bottom line was servicing the Central Intelligence Agency (CIA). This resulted in Prince expanding the business and opening a facility near the CIA headquarters in Langley, Virginia.
Blackwater also received contracts during the George W. Bush and Barack Obama presidencies that were worth millions of dollars. Prince has said that his ambition regarding  the business and its plans of expansion were all inspired by his father's desire for successfully running a business from the ground up.
After Prince sold off his entire business interest in Blackwater, he continued to work in the same field of operations, but in the overseas markets. This  included private equity interest in a company based in the Middle East and Africa.
Business Services in the Middle East 
Since Prince sold off his entire stake off in Blackwater, he has had more time to try out other business ventures. In 2010, he moved to Abu Dhabi to work for the Crown Prince. Erik was to put together an 800-person set of troops for the United Arab Emirates (U.A.E). Prince was in charge of overseeing the recruitment and training of those troops. A year later, it was reported that Prince was training 2,000 Somali troops, which were backed by the U.A.E and the United States.
Another reason for Prince's move was that he was facing legal trouble back in the United States. All of these newer training services were put under a company that was formed in the U.A.E. called Reflex Responses (also known as R2). Prince had an ownership stake of 51% in the business.
This was another method of adding to Prince's net worth, since an equity stake is owned and there is the possibility of seeing cash flow into his bank accounts.
The Middle East is not the only location that Prince has called home after he diluted his stake in Blackwater. He now owns and operates a private equity firm, Frontier Services Group Ltd, a logistics and transport company that's listed on the Hong Kong Stock Exchange. The company is incorporated in Bermuda.
Prince a Private Equity Investor 
Frontier Services the company is listed on the Hong Kong exchange and based in Bermuda, its operations do not occur in either location. The location of operations is in Africa, and the area of focus for the business is the oil and gas sector. However, the company is backed by the CITIC Group, which is a Chinese state-owned financial service company.
Since the company has been up and running, the company offers security services as well. This would include services such as evacuations from high-risk conflict areas and ensuring that commodities reach their final destination. This is based on Erik Prince's previous experience of being a Navy SEAL.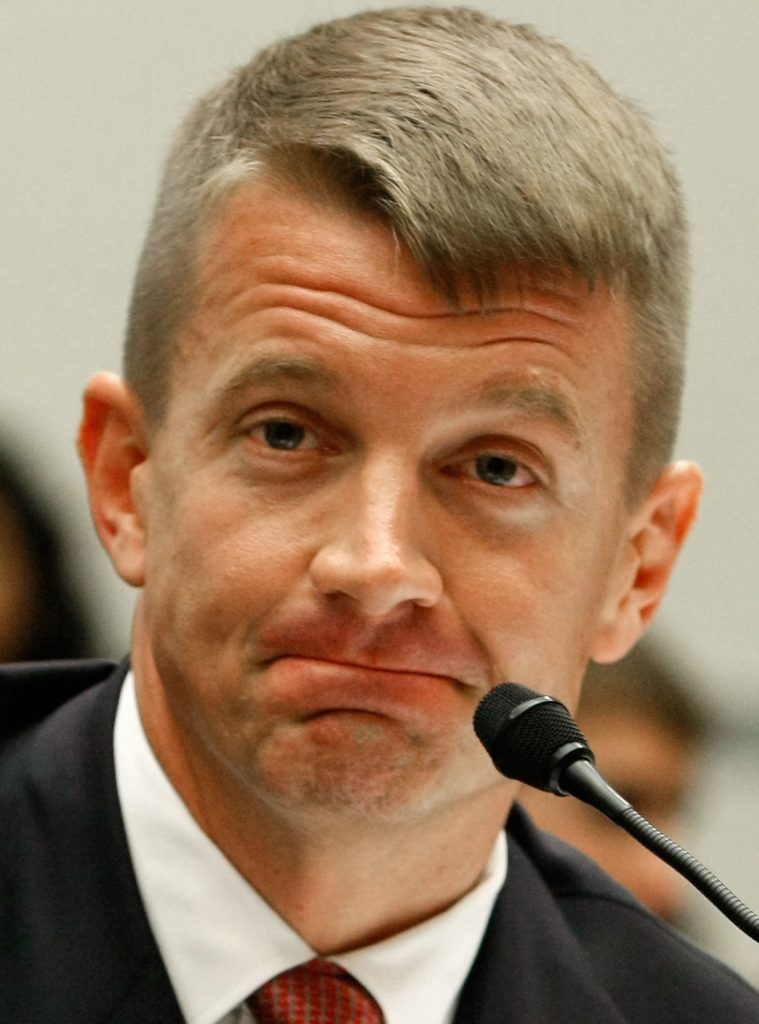 Why Would Prince Get Out of the Secret Services Field? 
Taking a look at Prince's actions, there could be two reasons why an oil and gas company is at the top of his agenda. The two reasons would come down to the controversy of being in the special services segment and preserving the capital of his investment.
Since secret services is a business that works closely with governments entities, there are a lot of issues that could arise. This has been the case in the past for Prince, when a Blackwater employee opened fire in a crowd in Baghdad, killing innocent civilians. This occurred in 2007, when Prince was still involved in the company.
Being in the oil and gas transportation market allows Prince to stay out of the limelight and stay solely focused on growing the business. Also, Blackwater only had one type of client: the United States government. This created a lot of risk because the business's success was dependent on government budgets and the relationship with presidential parties in power.
Also, Prince is a very smart business-minded individual, which he learned firsthand from his father. When his father grew the company, he looked at real estate due to the steady revenue generation of income and wealth. Erik seems to be following his father's footsteps with getting into the oil and gas market.
Transportation of oil and gas is a very steady and predictable revenue stream business. The business signs contracts with oil and gas company in order to move the commodity to the desired location. There is no drilling risk or mining risk for the commodity.
The businesses revenue also earns an inflation-protected revenue because, as time passes, there is a higher amount charged for such services. This is a business known for generating a large margin since there is no business cost other than administrative and maintenance cost.
The reason for these large margins is that there is a large heavy investment requirement needed when the business is started. Afterwards, it's just cash flow being generated.
Looking forward, there is a high possibility that Erik Prince's net worth could be reported at a higher amount.
Erik Prince Remains in the Spotlight 
Even after selling Blackwater and operating a company in Africa, Prince keeps himself out of the news. More recently, it was in regards to the supporting Republican candidate Donald Trump during the campaign trail, who went to eventually win the presidency. Prince contributed to Trump's campaign. Even before throwing his support for Trump, Erik has always supported the Republican Party by making donations to various campaigns.
There is no crime of supporting a candidate during the run for the White House, but Prince did engage in a meeting at which he represented himself as an unofficial representative of Trump and there is a possibility that the meeting involved Russian government officials.
The full details of this meeting are being looked into to determine if there was interference by the Russian government in the 2016 United States elections. It could reveal that Prince was partly involved in the election scandal without being an official member of Trump's team.
There is a special task force that is looking into the matter, which is being led by former FBI director, Robert Mueller. He has formed his own team and is working closely with the FBI.
---