State news agency confirms landmark meeting between Chinese President Xi Jinping and the North Korean leader, who says he is he seeking assurances from the US
28 March 2018 | Phila Siu | South China Morning Post
"North Korea's leader Kim Jong-un has promised President Xi Jinping that he will follow through the wishes of his father and grandfather in denuclearising the Korean peninsula, but added he wants assurances from the United States and South Korea.
The leader of the reclusive state made the remarks during a trip to China, his first overseas visit since he became North Korea's leader, according to the state-run Chinese news agency Xinhua.
Kim, the third generation of his family to lead his country, said the situation on the Korean peninsula was improving and that his government has taken steps to ease tensions, Xinhua reported.
North Korean leader Kim Jong-un leaves Beijing after surprise visit
Kim added that if the US and South Korea were willing to respond to North Korea's efforts with sincerity the nuclear issue "can be solved".
"Our unswerving stance is that we will make efforts towards the denuclearisation of the peninsula," Kim was quoted as saying by Xinhua.
President Xi pledged to work with North Korea to achieve denuclearisation.
"China is willing to continue to make a constructive impact on the Korean peninsula problem," President Xi said. He called upon all sides to solve the problem through dialogue, Xinhua reported.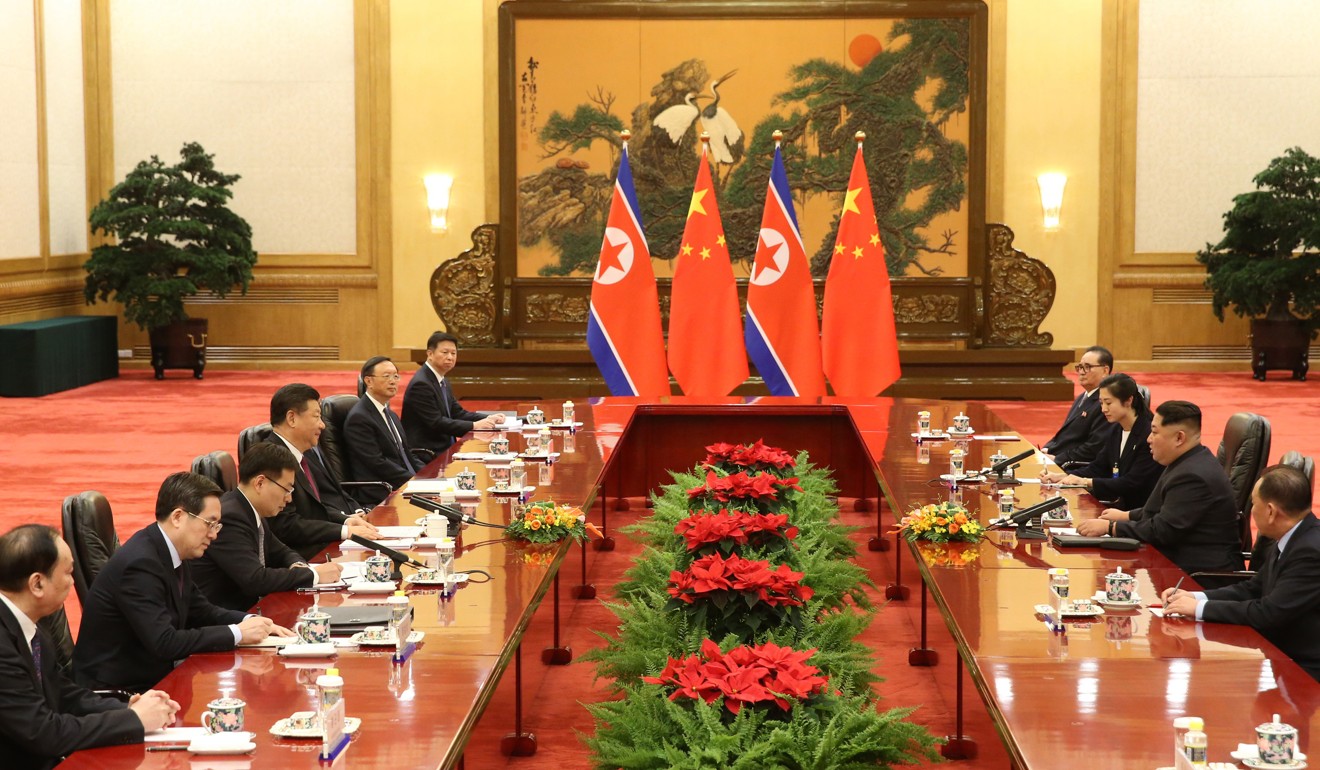 Tensions have risen on Korean peninsula after North Korea has increased nuclear weapons tests.
The United Nations has enforced a series of sanctions to try to rein in Pyongyang's nuclear ambitions.
Hopes of a breakthrough in the crisis have risen since the announcement that North and South Korea's leaders have agreed to meet.
Beijing is North Korea's long-standing traditional ally, but ties have been frayed by North Korea's pursuit of nuclear weapons and China's support of UN sanctions.
Pang Zhongying, a senior fellow at the Ocean University of China in Qingdao, said Kim was securing China's support ahead of his meeting with US President Donald Trump, scheduled to be held by May.
"By denuclearisation, Kim actually means the whole Korean peninsula should be denuclearised and that the nuclear weapons deployed by the US in South Korea should be withdrawn," Pang said. "Can the US really accept that request? The gesture means that the chance of a significant breakthrough between Kim and Trump may be slim."
Kim's visit evidence China and North Korea remain allies, analysts say
Paul Haenle, director of the Carnegie-Tsinghua Centre in China, agreed Kim was looking for support from Beijing ahead of his meetings with South Korea's president and Trump.
"Just as Kim may have felt he had secured some leverage against Xi having independently secured summits with Trump and Moon, he'll now feel more confident knowing where things stand with Beijing heading into those same meetings," he said.
White House press secretary Sarah Huckabee Sanders said the Chinese government had briefed the Trump administration about the visit on Tuesday.
The Trump administration sees the development "as further evidence that our campaign of maximum pressure is creating the appropriate atmosphere for dialogue with North Korea", she said.
Beijing residents left in the dark during Kim Jong-un's unexpected visit
Kim arrived by train in Beijing on Monday and left the following day, with his trip to China coming just days before a planned meeting with South Korean President Moon Jae-in and ahead of the possible summit with Trump.
Speculation about a visit by Kim to Beijing came earlier this week after a train similar to the one used by Kim's father was seen in the Chinese capital.
Ri Sol-ju, Kim's wife, was also part of the delegation to Beijing, Xinhua reported.
China's Premier, Li Keqiang, Vice-President Wang Qishan and Politburo Standing Committee member Wang Huning also met the North Korean leader.The green armoured train carrying the North Korean leader returned to the reclusive state at about 6am on Wednesday across a bridge connecting the two countries in Dandong, Liaoning province.
Chinese police had blocked access to the area around the bridge before the train's arrival.
Armed police vehicles were also seen in the area.
North Korea agrees to inter-Korean talks to discuss possible April summit
Access to parts of the Yalu River riverbank, which separates North Korea and Dandong, were blocked. Some police officers also stopped people from taking pictures of the bridge before the train's arrival.
"I can only say that a situation is happening here," a police officer at one of the blocked roads told the South China Morning Post.
About three minutes after the train passed over the bridge, police officers finally allowed pedestrians to enter the area.
As the Post visited the area in the early hours of Wednesday – before the area was cordoned off – five plainclothes police officers approached and asked staff to leave.
They did not explain why, only saying "it was not safe" to be there so late at night.
Phila Siu is reporting from Dandong