20 May 2018 | Various Sources | Hawkins Bay Dispatch – This Day
The first concentration camp prisoners—30 recidivist criminals from Sachsenhausen—arrive at Auschwitz concentration camp.
The SS established the Sachsenhausen concentration camp as the principal concentration camp for the Berlin area. Located near Oranienburg, north of Berlin, the Sachsenhausen camp opened on July 12, 1936, when the SS transferred 50 prisoners from the Esterwegen concentration camp to begin construction of the camp.
In the early stage of the camp's existence the SS and police incarcerated mainly political opponents and real or perceived criminal offenders in Sachsenhausen. By the end of 1936, the camp held 1,600 prisoners.
Between 1936 and 1945, however, Sachsenhausen also held Jews, homosexuals, Jehovah's Witnesses, "asocials" (among these prisoners were Roma and Sinti), and, later, Soviet civilians. Prominent figures interned in Sachsenhausen included Pastor Martin Niemöller, former Austrian chancellor Kurt von Schuschnigg, Georg Elser, Herschel Grynszpan, and Joseph Stalin's son, Yakov Dzhugashvili.
The Auschwitz concentration camp complex was the largest of its kind established by the Nazi regime. It included three main camps, all of which deployed incarcerated prisoners at forced labor.
One of them also functioned for an extended period as a killing center. The camps were located approximately 37 miles west of Krakow, near the prewar German-Polish border in Upper Silesia, an area that Nazi Germany annexed in 1939 after invading and conquering Poland.
---
07 May 2018 | Christian Davies | The Guardian
Officials at the Auschwitz-Birkenau memorial and museum have described how they were subjected to a wave of "hate, fake news and manipulations" as a result of the controversy surrounding a contentious Holocaust speech law passed by Poland's ruling Law and Justice party earlier this year.
The campaign of disinformation and abuse at the hands of Polish nationalists has raised concerns about pressure being exerted on official guides at the site in southern Poland, after the home of one foreign guide was attacked and supporters of a convicted antisemite filmed themselves repeatedly hectoring their guide during a visit to the camp in March.
Conceived in part as a means to prevent facilities established by Poland's German occupiers from being described as "Polish death camps", the legislation, which criminalises the false attribution to the Polish state or nation of complicity in the crimes committed by Nazi Germany during the Holocaust, prompted a furious reaction in Israel and elsewhere amid concerns it could be used to restrict open discussion of Poland's wartime history.
This in turn provoked an angry backlash from nationalist and pro-government media in Poland, many of whom accused the museum – which administers the site, conducts historical research, and trains and licenses official guides – of deliberately downplaying the fate of the approximately 74,000 non-Jewish Polish prisoners who perished in the camp, by focusing exclusively on its Jewish victims.
The brother of the museum's director published an emotional message on Facebook in March decrying the "50 days of incessant hatred" directed at his brother, Piotr Cywiński. "For 12 long years he's worked in one of the most terrible places in the world, in an office with a view of gallows and a crematorium," he wrote. "Dozens of articles on dodgy websites, hundreds of Twitter accounts, thousands of similar tweets, profanities, memes, threats, slanders, denunciations. It's enough to make you sick."
Paweł Sawicki, who runs the museum's social media operation, said: "The collateral damage of the dispute is that Auschwitz became a target. We've had people saying they were not allowed to have a Polish flag here, or saying that the memory of Poles is not represented here, that the museum is anti-Polish – all of this is untrue, and we had to respond."
The museum has become increasingly assertive in its rebuttals, regularly intervening in discussions on Twitter and publishing a long list of false claims that have been made about the museum, ranging from the issue of Polish flags to the accusation that former Polish prisoners were not invited to a ceremony in January to commemorate the camp's liberation.
In February, an open letter to Poland's minister of culture was published on a rightwing Polish news website in which the author alleged that the police were called after he challenged a guide who, he claimed, had refused to acknowledge that any of the SS guards at Auschwitz had been German. An internal investigation concluded that the entire incident had been fabricated.
"We are not getting involved in politics," said Sawicki, "but out of respect to all of the victims we have an obligation to defend the memory and the history of this place, and to protect it from attempts to use or exploit it in any way."
A key claim of the campaign against the museum is that it has been training the site's official guides to promote "foreign narratives" that are considered by many nationalists and government supporters to be inherently hostile to the Polish point of view.
In February, the official responsible for schools in the region in which Auschwitz is located argued that only Poles should be allowed to work as guides at the site, and that they should be licensed by Poland's Institute of National Remembrance, a state body widely seen as a tool used by the government to impose its preferred historical narratives.
"Foreign, and not Polish narratives reign at Auschwitz. Time for it to stop," wrote Barbara Nowak, who until last year served as a local councillor for Law and Justice.
In March, the home of an Italian Auschwitz guide in the nearby city of Krakow was vandalised, with "Poland for the Poles" and graffiti equating the Star of David with a Nazi swastika scrawled on his door, and "Auswitz for Poland guide!!" (sic) daubed on an adjoining wall.
That was followed by a visit to Auschwitz by Piotr Rybak, a nationalist politician convicted of burning an effigy of an Orthodox Jew in the south-western city of Wrocław in 2015. A video uploaded to YouTube shows Rybak and a group of supporters wrapped in Polish flags repeatedly surrounding and badgering their official guide and accusing him of lying about the fate of non-Jewish Poles in the camp.
Critics note that a tacit political alliance between radical rightwing circles and Poland's nationalist-minded government has complicated matters for the museum, which is answerable to Poland's ministry of culture.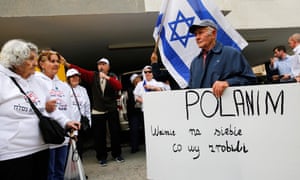 A museum spokesman said Rybak's visit was an isolated incident and that it was unaware of any other guides facing harassment from members of the public in recent months. However, that version of events was questioned by one guide, who expressed concerns that museum authorities were downplaying the pressure experienced by guides out of fear of generating further political controversy.
"The leadership are too scared of the government and the guides are too scared of losing their jobs to speak out against the provocations that have been going on here," said the guide, who requested anonymity.
A number of museum directors in Poland have lost their jobs or been subjected to pressure from rightwing websites and ruling party politicians in recent years. Last year the director of a new second world war museum in the Baltic city of Gdańsk was removed from his position after a lengthy and bitter legal battle, and Poland's minister of culture recently publicly questioned the position of the director of the Museum of the History of Polish Jews in Warsaw, whose tenure is up for renewal next year.
But Władysław T Bartoszewski, a historian and expert in Polish-Jewish relations whose father was a prisoner in Auschwitz and later served as chairman of the International Auschwitz Council, said it was extremely unlikely that the government would countenance an attempt to remove Cywiński.
"I don't doubt that there are some members of the government who would like to see Cywiński removed, and some who might even be reckless enough to try," he said. "But he has too much support from all sides – he is close to being untouchable."
---
18 May 2018 | AFP | The Local
The Swedish Committee Against Anti-Semitism will receive 12.8 million kronor to organise trips to Holocaust remembrance sites, and the Living History Forum, a public authority, is to offer educational tools and resources.
Sweden, which boasts a long tradition of welcoming refugees and persecuted groups, is experiencing a creeping rise in neo-Nazi activities in the public and on social media.
At the centre of this is the Nordic Resistance Movement (NMR), described as the most violent neo-Nazi organisation in Sweden by the anti-racism magazine Expo.
Openly promoting a racist and anti-Semitic doctrine, the group organised demonstrations on the sidelines of an annual book fair in Sweden's second-largest city of Gothenburg in September and held an authorised protest at a political forum on the island of Gotland last year.
Expo estimates that the organisation's core consists of barely 80 members, but says it was more active last year than ever before.
A Swedish court in July last year sentenced three neo-Nazi activists for up to eight and a half years in prison over bomb attacks against refugee shelters that left one person seriously injured.
A 1997 study found that 66 percent of Swedish secondary school students were unsure whether the Holocaust actually happened.
The Living History Forum, which was established in 2003 to provide accurate information in schools about the Holocaust, recently launched a similar study, the results of which will be released later this year.
---
19 May 2017 | Mehmet Gormez | Al Jazeera English
On April 21, 2018, an open letter was published in France by Le Parisien under the title "Manifesto against the new anti-Semitism". The manifesto was written by the former director of satirical magazine Charlie Hebdo, Philippe Val, and signed by more than 250 famous authors, journalists, and politicians. Interestingly enough, former President Nicolas Sarkozy and former Prime Ministers Manuel Valls and Bernard Cazeneuve were also among the signatories of this strange text.
The manifesto claims that, based on recent attacks on members of the Jewish community, a new anti-Semitism is rising in France and implies that Muslims are responsible for it. The text opens with the declaration that "anti-Semitism is a problem for everyone, not just Jews," stating that the country has become a deadly theatre of anti-Semitism and adding that "France without the Jews is no longer France because French history, for geographic, religious, philosophical, and juridical reasons, is deeply linked to various cultures among which Jewish thought is decisive."
Those who wrote this manifesto are perhaps unaware that they are contributing to the marginalisation of nearly six million Muslims living in France, who on top of suffering the consequences of widespread Islamophobia, are now standing accused of being responsible for anti-Semitism as a whole. The signatories of this manifesto did not only blame Muslims but also claimed that Islam and its holy book, the Quran, are tools used to encourage anti-Semitic crimes.
The manifesto ends with these sentences: "The verses of the Quran calling for murder and punishment of Jews, Christians, and nonbelievers must be struck to obsolescence by religious authorities, as were the inconsistencies of the Bible and Catholic anti-Semitism abolished by the Second Vatican Council, so that no believer can rely on a sacred text to commit a crime. We expect French Islam to lead the way."
This call is extremely ignorant in three ways.
First: There has never been a proposition to make obsolete phrases that supposedly evoke anti-Semitism from the Christian sacred texts in the Second Vatican Council document nor any other.
Second: The Quran is not a book that commands the killing or the punishment of Jews, Christians or non-believers because of their beliefs. In Islam, human life is sacred.
Third: There is no church nor council in Islam. It is not individuals and institutions that constitute religious authority in Islam, but the book itself. Nobody can touch a single letter of the Quran. This book is under the protection of God.
I will briefly explain each one of these.
---
Read This Day from Hawkins Bay Dispatch