31 Jan 2019 | Dan Hancox | The Guardian
Sheltering from a sudden downpour in a parked car just off Brixton Road, London, are two of British music's greatest new talents, and now biggest outlaws: Skengdo and AM. A fortnight ago, the Metropolitan police announced they had secured a sentence of nine months in prison for the two 21-year-old drill rappers, suspended for two years, for breaching a gang injunction issued in August last year.
The nature of the breach? Performing their song Attempted 1.0 at a London concert in early December. The suppression of black music in the UK stretches back 100 years, but, according to Index on Censorship, this is first time in British legal history that a prison sentence has been issued for performing a song.
The concert, at 1,400-capacity Koko, was the culmination of a sold-out nationwide tour, a celebratory homecoming gig performed in front of a diverse crowd of moshing fans. "We ended the year on such a positive note, we were so proud of what we'd achieved," says AM. "We were just really excited about 2019." Skengdo rolls his eyes. "And what a fucking start to this year. I just feel violated."
The backlash is already gathering pace: a forthcoming open letter signed by civil rights group Liberty and others calls the injunction "a threat to all our civil liberties", that prevents young people from discussing "the reality of their lives with any hope of being heard."
Jodie Ginsberg, CEO of Index on Censorship, points to the long history of the authorities targeting music by people "far removed from those in power … The law already prevents individuals from directly inciting violence, but such wide-ranging bans go well beyond this. They are not the way to handle ideas or opinions that are distasteful or disturbing, and do nothing to address the issues that lead to the creation of this kind of music."
Skengdo and AM's suspended jail sentence marks a dramatic watershed in the young life of the controversial UK drill scene. The rap subgenre was born on the south side of Chicago in the early 2010s, built from monotone beats and glinting synths, usually with bleak, charismatically delivered lyrics. It has flourished since being discovered on YouTube by young rappers on the same London council estates that previously produced grime, and "road rap" crossover stars such as Giggs and Krept and Konan.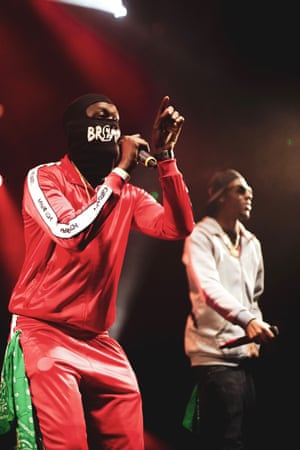 Drill was still underground at the end of 2017, but an unholy brew of violent lyrics and music videos, rising incidences of youth violence and media fondness for a pop culture scapegoat led to negative headlines in 2018.
It would be naive to deny that there are connections between drill music and real-world violence: lyrics have been cited in several court cases, and the drill MC M-Trap was among those convicted of the murder of 15-year-old Jermaine Goupall in August 2017.
As with moral panics over 90s gangster rap and 00s UK garage, "video nasties", violent Hollywood films and computer games, the controversy concerns the muddy waters between cause and correlation.
The song that landed AM and Skengdo – plus TS and Blackz, two fellow members of their Brixton-based group 410 – their unprecedented sentence is a dark, disarmingly catchy tune that was one of the best rap tracks of 2018.
It features AM's trademark deep flow describing alleged historic violent clashes with several members of rival crews Moscow17 and Harlem Spartans, both based barely a mile away to the north. AM taunts their members by name and sketches out cartoonish gang violence: "My big .45, it came with fries / I keep her close, my Valentine / Her range ain't shit, it's kinda wide / So if you lack you're gonna die." Three young men from these crews were killed in the space of a few months in 2018, but there is no suggestion – from the police or anyone else – that members of 410 were involved.
The Met nevertheless decided to classify 410 as a gang, with the injunction declaring that 410's activities, "including but not limited to the production of drill music videos … have amounted to gang-related violence".
In a culture in which rival groups often call each other out on YouTube and Snapchat, the diss track was seen by the Met as unforgivably incendiary. The injunction will remain in place until January 2021, and prohibits the named 410 members from entering the SE11 postcode, 10 minutes' walk from their homes. The Met had pushed for a ban on them entering SE1, too, which spans the South Bank area of the Thames, but the judge rejected this request.
The injunction also prohibits Skengdo and AM performing or broadcasting songs with lyrics mentioning those rival crews, rappers in those crews or even describing "intrusions on to any other gang or group's perceived territory", including their postcodes.
The Met's claim is that in performing Attempted 1.0 at Koko, and sharing clips of the gig on social media, Skengdo and AM "incited and encouraged violence against rival gang members", in breach of the injunction. The rappers' management team point out that incitement to violence is a crime in itself, for which no charge has been brought – and that neither of the rappers has ever been convicted of a violent crime.
Their mood is a mixture of disbelief and defiance, along with reflection on how they arrived at this point. "We don't have a lot of power, ultimately," AM says. "I feel like the authorities have taken advantage of that. They have imposed something that will give us a criminal record just for making music. We didn't contest the injunction, and the breach, because we couldn't afford it – we were forced into a corner, where we had to choose between our careers and freedom. And the only way we could choose our career is by pleading guilty and trying to move on with making music.
Original Link: Skengdo and AM: the drill rappers sentenced for playing their song
Read
James Porteous