05 March 2019 | Jonathan Capriel  | Washington Business Journal
Amazon.com Inc. is expected to occupy about 6 million square feet by the summer of 2035 in Arlington, according to the incentive agreement between the county and company released to the public Tuesday.
The company would get $23 million over 15 years, as expected.
The county's first payment would come in August 2020, provided Amazon secures at least 64,000 square feet of office space by July 2020. Amazon would need to more than double its square footage in 2021 to 252,800, according to the agreement.
The deal focuses on Amazon meeting size requirements because the county gets most of its money from property taxes, according to Cara O'Donnell, a public relations manager at Arlington Economic Development. The money to pay the e-commerce giant would come from the Transient Occupancy Tax, essentially the county's tax on hotel room nights.
The deal also requires the county to give Amazon a heads up on public records request so that the company can "take such steps as it deems appropriate with regard to the required disclosure of records and (b) disclose only such records as are subject to mandatory disclosure under VaFOIA or other applicable law or regulation," the agreement says.
Amazon has suggested that the county incentive dollars could be used for community development, including creating open green spaces.
The county incentives would only be a fraction of the total benefits Amazon would get for following through with HQ2 in Arlington.
The state has already approved workforce cash grants of $550 million in return for 25,000 new jobs with an average wage of at least $150,000 each.
The company could get an additional $200 million if it adds 12,850 new jobs beyond the initial 25,000.
HQ2 supporters and detractors are ramping up their efforts in the dozen days before the Arlington County board votes March 16 at 8:30 a.m. on its incentive package for Amazon. For Us, Not Amazon, a coalition of community groups skeptical of the e-commerce titan's plans, continues to canvas and go door-to-door in neighborhoods it believes will be negatively impacted by HQ2.
Meanwhile, the Arlington County Chamber of Commerce and JBG Smith Properties, Amazon's future landlord in the county, are hoping to launch email campaigns that show support for the county incentives. The Arlington chamber encouraged its members to forward one of four prewritten letters, posted on its website Monday, addressed to board Chair Christian Dorsey.
"I am writing to encourage the Arlington County Board to approve the County's performance agreement with Amazon for their new headquarters. Approving this agreement is a powerful statement that Arlington is open for business," one of the letters reads in part, though the chamber also said they can be customized.
JBG Smith (NYSE: JBGS) posted a similarly worded letter on CoUrbaniz, a Boston-based startup the developer retained last year in an effort to get community feedback for its Crystal City Central District redevelopment. Both the chamber and JBG Smith's post ask HQ2 supporters to attend the county board meeting.
Anti-Amazon groups have already shown a willingness to attend county board meetings and even disrupt events where company representatives are present. About three dozen For Us, Not Amazon members holding signs attended the last regular monthly county meeting, and four demonstrators crashed a Bisnow panel discussion last week just before Holly Sullivan, Amazon's director of global economic development, spoke.
The group has pushed its members to handwrite letters on postcards to the county board expressing concern and criticism with the arrival of HQ2.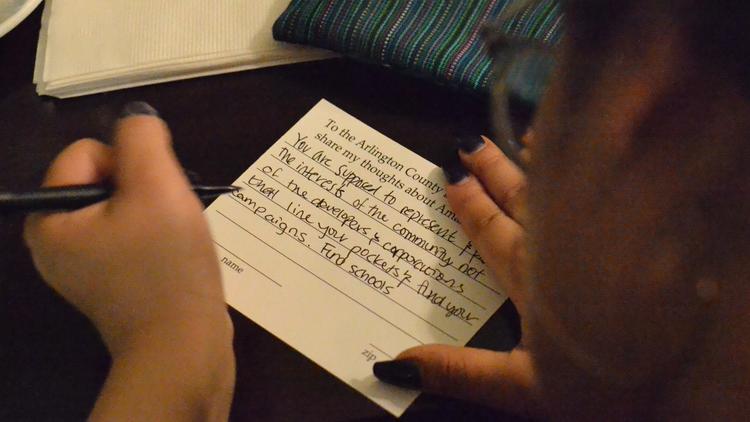 Those associated with the group are asking for a public hearing, where Amazon representatives can take questions directly from its own members before the board votes on the incentives.
Sullivan did answer questions during an invitation-only event moderated by the Metropolitan Washington Council of Governments last month. Two members of For Us, Not Amazon, Roshan Abraham and Danny Cendejas, were invited but refused to go because of the enforced guest list.
"This did not seem like a genuine opportunity for community members to be heard or for concerns to be expressed," said Cendejas.
Original Link: Arlington releases Amazon incentive agreement, expects 6 million square feet in Crystal City
join the Hawkins Bay Revolution
before it is too late
Read
James Porteous