11 April 2019 | Various sources 
US Department of Justice
U.S. Attorney's Office
Eastern District of Virginia
ALEXANDRIA, Va. – Julian P. Assange, 47, the founder of WikiLeaks, was arrested today in the United Kingdom pursuant to the U.S./UK Extradition Treaty, in connection with a federal charge of conspiracy to commit computer intrusion for agreeing to break a password to a classified U.S. government computer.
According to court documents unsealed today, the charge relates to Assange's alleged role in one of the largest compromises of classified information in the history of the United States.
The indictment alleges that in March 2010, Assange engaged in a conspiracy with Chelsea Manning, a former intelligence analyst in the U.S. Army, to assist Manning in cracking a password stored on U.S. Department of Defense computers connected to the Secret Internet Protocol Network (SIPRNet), a U.S. government network used for classified documents and communications.
Manning, who had access to the computers in connection with her duties as an intelligence analyst, was using the computers to download classified records to transmit to WikiLeaks.
Cracking the password would have allowed Manning to log on to the computers under a username that did not belong to her. Such a deceptive measure would have made it more difficult for investigators to determine the source of the illegal disclosures.
During the conspiracy, Manning and Assange engaged in real-time discussions regarding Manning's transmission of classified records to Assange.
The discussions also reflect Assange actively encouraging Manning to provide more information. During an exchange, Manning told Assange that "after this upload, that's all I really have got left." To which Assange replied, "curious eyes never run dry in my experience."
Assange is charged with conspiracy to commit computer intrusion and is presumed innocent unless and until proven guilty beyond a reasonable doubt. If convicted, he faces a maximum penalty of five years in prison.
Actual sentences for federal crimes are typically less than the maximum penalties. A federal district court judge will determine any sentence after taking into account the U.S. Sentencing Guidelines and other statutory factors.
G. Zachary Terwilliger, U.S. Attorney for the Eastern District of Virginia, John C. Demers, Assistant Attorney General for National Security, and Nancy McNamara, Assistant Director in Charge of the FBI's Washington Field Office, made the announcement after the charges were unsealed.
First Assistant U.S. Attorney Tracy Doherty-McCormick, Assistant U.S. Attorneys Kellen S. Dwyer, Thomas W. Traxler and Gordon D. Kromberg, and Trial Attorneys Matthew R. Walczewski and Nicholas O. Hunter of the Justice Department's National Security Division are prosecuting the case.
The extradition will be handled by the Department of Justice's Office of International Affairs.
A copy of this press release is located on the website of the U.S. Attorney's Office for the Eastern District of Virginia. Related court documents and information are located on the website of the District Court for the Eastern District of Virginia or on PACER by searching for Case No. 1:18-cr-111.
An indictment contains allegations that a defendant has committed a crime. Every defendant is presumed to be innocent until and unless proven guilty in court.
Attachment(s):
Update: 11 April 2019 02:11 PM
US justice department says Assange faces five years in jail
Update: 11 April 2019 1:30 PM
What's the purpose of the U.S.-UK extradition treaty?

Is the U.S.-UK extradition treaty unfairly balanced in favor of the United States?

Wasn't the treaty created to deal with terrorists? Isn't the U.S. now misusing that treaty to go after regular UK citizens accused of minor crimes?

Why can British citizens be tried in the U.S. for something that isn't even a crime in the UK?

For some of the recent cases – McKinnon, Tappin, O'Dwyer – isn't it unfair to extradite those individuals, considering the circumstances of their cases?

If the extradition treaty requires that the offense be a crime in both countries, then why can't British citizens just be tried in the UK?

Why is it so much easier to extradite someone from the UK to the U.S. than in the other direction

What are the correct numbers of extraditions between the United States and the United Kingdom?

Why do so many critics say that the standards are not the same? Why can the U.S. request the extradition of British citizens without having to provide any evidence of a crime?

Why does the U.S. use a Grand Jury to try people in secret before extraditing them?
Original Report

Julian Assange has been arrested at the Ecuadorian embassy in London, where the WikiLeaks founder was granted refuge in 2012 while on bail in the UK over sexual assault allegations against him in Sweden.

At the time, Assange claimed that if he was extradited to Sweden he might be arrested by the US and face charges relating to WikiLeaks's publication of hundreds of thousands of US diplomatic cables.

Assange's departure was previewed in a tweet by WikiLeaks on Thursday night, which said a "high level source within the Ecuadorian state has told WikiLeaks that Julian Assange will be expelled within 'hours to days' using the Ina Papers offshore scandal as a pretext – and that it already has an agreement with the UK for his arrest".

The Ina Papers scandal revolve around allegations that Ecuador's president, Lenín Moreno, corruptly benefited from an offshore account in Panama. Moreno denies any wrongdoing.

The journalist and Assange supporter John Pilger called on Thursday night for people to "fill the street outside the embassy and protect him and show solidarity with a courageous man".

Overnight, a handful of people, some describing themselves as activists, began arriving at the embassy in Knightsbridge. A row of orange tents, filled with white teddy bears, a guitar and a large babushka doll, was set up outside the building. Supporters spelled out "No expulsion" in lights on the footpath outside the embassy. Police cars were stationed nearby throughout the night.

US authorities have never officially confirmed that they have charged Assange, but in November 2018 a mistake in a document filed in an unrelated case hinted that criminal charges might have been prepared in secret.

The relationship between Assange and his hosts has soured over the years. In March, Assange's internet access was cut off and he was forbidden from having visitors.

Moreno has said Assange had "repeatedly violated" the conditions of his asylum in the country's London embassy.

Speaking to the Ecuadorian radio broadcasters' association on Tuesday, Moreno said "photos of my bedroom, what I eat and how my wife and daughters and friends dance" had been circulated on social media but stopped short of accusing WikiLeaks directly of circulating hacked photos and wiretapping his phone calls and private conversations.

The court filing, submitted apparently in error by US prosecutors, mentioned criminal charges against someone named "Assange" even though that was not the name of the defendant. Legal analysts said the error was likely to have been caused by prosecutors copying and pasting from sealed documents.
From Guardian:
The dramatic footage of white-bearded Julian Assange being carried out of the Ecuadorian embassy in London by British police offices was captured by a camera operator from the news agency Ruptly, a subsidiary of the Russian government-backed news service RT.

The Berlin-based agency, which have carved out a niche in livestreaming events that others ignore such as protests and public disorder, has maintained a 24-hour watch on the embassy since the 5 April, according to Laura Lucchini, the head of Ruptly's newsroom.

Embarrassingly, British television stations are now having to rely on footage from a Russian-government backed news organisation to cover an event which took place on their own backyard in central London.

Multiple sources at UK broadcasters suggested there had been a pool agreement – where BBC, ITN, and Sky News take turns to provide a camera outside the embassy and agree to share any footage – from 5 April onwards. However, this was abandoned at the weekend when news editors concluded Assange would not be leaving imminently, meaning British broadcasters failed to capture the key moment.

RT, previously known as Russia Today, has long been supportive of Assange and his associated causes, prompting suggestions that the news organisation could have received a tip about the impending arrest which enabled them to get the footage.

However, employees at Ruptly insist there is a more simple explanation: They were more committed to having a cameraman outside the building at all times than other broadcasters.

They now have a global scoop, with the potential to make substantial sums from licensing the footage around the world.

In the past the British police forces have been willing to quietly tip off the media about high-profile police raids or arrests – but this has changed followed the Cliff Richard case, which saw the BBC fly a helicopter over the singer's house only for the investigation to end with no charges and an expensive lawsuit.
At a press conference in London yesterday, WikiLeaks detailed a vast and illegal surveillance operation against its founder, Julian Assange, inside Ecuador's British embassy, where he was granted asylum in 2012.

The material presented by the publisher's editor-in-chief Kristinn Hrafnsson and Assange's lawyer, Jennifer Robinson, demonstrated that every aspect of the WikiLeaks founder's life over more than a year, including medical consultations and private legal meetings, had been spied upon by Ecuadorian officials inside the embassy. (WSWS 11 April 2019)
---
Editorial 09 April 2019
It is almost seven years since the WikiLeaks founder Julian Assange skipped bail and sought refuge in Ecuador's London embassy. Now there are signs that the Assange case may be nearing a turning point.
The immediate cause is a change in Ecuador's attitude. Over the years, Ecuador's ardour in support of Mr Assange has cooled for a variety of reasons, including shifting politics.
Two months ago relations went into the deep freeze after private pictures of President Lenín Moreno and his family began appearing online, followed by the publication of papers that appear to implicate Mr Moreno in corruption, perjury and money laundering, which he has denied.
A week ago, the president said Mr Assange was violating his asylum conditions. This was followed by repeated rumours that he would soon be leaving the embassy.
These events have not occurred in a global vacuum. Things have become more threatening for Mr Assange since Donald Trump succeeded Barack Obama in the White House two years ago. Ecuador's economy is facing recession and mounting debt.
It has just been bailed out by the IMF, to which the US is the largest contributor. Mr Trump has recently received the still-to-be-published Mueller report, which examined allegations that WikiLeaks was involved in publishing emails obtained by Russian hackers during the 2016 election.
Mr Trump is also currently cutting a swath through the management of the US homeland security department, demanding tougher regimes against Latin American migrants and cybercriminals. All of this adds up to a more confrontational US stance towards countries like Ecuador and dissidents like Mr Assange.
The relative leniency of the late Obama years has given way to a more punitive approach to civil rights. In one of his last presidential acts, Mr Obama commuted the prison sentence imposed on the WikiLeaks whistleblower Chelsea Manning.
Under Mr Trump, Ms Manning is again back in jail, serving an indeterminate sentence for refusing to give further evidence to a secret grand jury in a WikiLeaks investigation. She should be released immediately.
Last November it became clear that Mr Assange has himself been charged in the US – though no details have yet appeared. The possibility that the US will try to have Mr Assange extradited is very real.
From first to last, the Assange case is a morally tangled web. He believes in publishing things that should not always be published – this has long been a difficult dividebetween the Guardian and him.
But he has also shone a light on things that should never have been hidden. When he first entered the Ecuadorian embassy he was trying to avoid extradition to Sweden over allegations of rape and molestation. That was wrong. But those cases have now been closed.
He still faces the English courts for skipping bail. If he leaves the embassy, and is arrested, he should answer for that, perhaps in ways that might result in deportation to his own country, Australia.
Nothing about this is easy, least of all Mr Assange himself. But when the call comes from Washington, it requires a firm and principled no. It would neither be safe nor right for the UK to extradite Mr Assange to Mr Trump's America.
---
 08 March 2019  BBC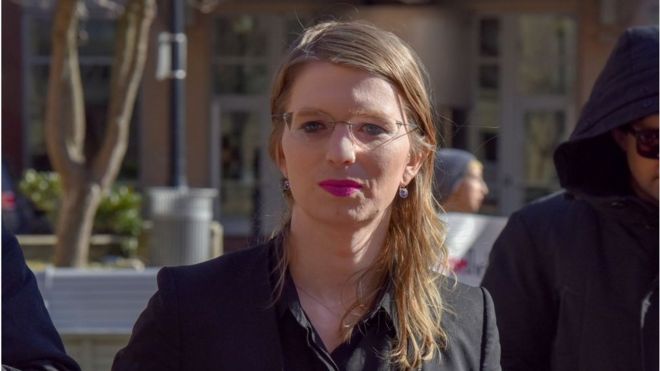 Former US intelligence analyst Chelsea Manning has been jailed for refusing to testify before an investigation into Wikileaks.
A Virginia judge ordered her taken into custody until the grand jury's work is finished or she decides to testify.
Manning said she shared everything she knows during her court-martial.
Manning was found guilty in 2013 of charges including espionage for leaking secret military files to Wikileaks, but her sentence was commuted.
Manning, 31, told US District Judge Claude Hilton that she would "accept whatever you bring upon me", but would not testify, the Associated Press reported.
Her lawyers had reportedly asked that she be confined at home due to medical issues, but the judge said US Marshals would address her care needs.
US prosecutors have been investigating Wikileaks for years, and in November prosecutors inadvertently revealed possible charges against Wikileaks founder Julian Assange, in court documents from a separate case.
On Friday, Manning said in a statement: "I will not comply with this, or any other grand jury."
"Imprisoning me for my refusal to answer questions only subjects me to additional punishment for my repeatedly-stated ethical objections to the grand jury system."
Prosecutor Tracy McCormick said Manning could be freed if she changes her mind and decides to follow the law and testify, according to the Associated Press.
Chelsea Resists!, a group supporting Manning and seeking to raise money for her legal fees, said grand juries were "mired in secrecy, and have historically been used to silence and retaliate against political activists".
"Chelsea gave voluminous testimony during her court martial. She has stood by the truth of her prior statements, and there is no legitimate purpose to having her rehash them before a hostile grand jury."
Manning was arrested in Iraq in 2010 for disclosing more than 700,000 confidential documents, videos and diplomatic cables to the anti-secrecy website.
While Manning said she only did so to spark debates about foreign policy, US officials said the leak put lives at risk.
She was sentenced to 35 years after being found guilty of 20 charges related to the leak, but only served seven before former President Barack Obama commuted her sentence in 2017.
Her sentence was the longest given for a leak in US history. Mr Obama said it was "disproportionate" to her crimes.
Republicans criticised the Democratic president's decision at the time.
Then-Speaker of the House of Representatives Paul Ryan said Mr Obama had set "a dangerous precedent that those who compromise our national security won't be held accountable", the New York Times reported.
President Donald Trump has called Manning an "ungrateful traitor" who "should never have been released from prison".
ARREST OF ASSANGE PROVOKES CONDEMNATION OF UK AND ECUADOR
Wikileaks founder arrested this morning in breach of international law as Ecuador withdrew asylum
Wikileaks founder Julian Assange has been dragged from the Ecuadorian embassy this morning by police, after the Ecuador government withdrew his asylum. Assange had spent seven years confined to the Embassy.
The Home Office ordered his arrest on a 2012 warrant, even though the Swedish government had withdrawn charges on which it wanted to extradite him.
Assange has always claimed that the US wanted to extradite him to charge him over the leak of US information by Wikileaks – and incorrectly edited court documents for a different case suggested the US has prepared charges against him in secret.
Assange had become an Ecuadorian citizen, making that government's actions a breach of its own laws in handing him over to a foreign state.
Internationally-renowned journalist John Pilger was one of many scathing in his condemnation:
Wikileaks has obtained and decrypted this previously unreleased video footage from a US Apache helicopter in 2007. It shows Reuters journalist Namir Noor-Eldeen, driver Saeed Chmagh, and several others as the Apache shoots and kills them in a public square in Eastern Baghdad. They are apparently assumed to be insurgents. After the initial shooting, an unarmed group of adults and children in a minivan arrives on the scene and attempts to transport the wounded. They are fired upon as well. The official statement on this incident initially listed all adults as insurgents and claimed the US military did not know how the deaths ocurred. Wikileaks released this video with transcripts and a package of supporting documents on April 5th 2010 on http://collateralmurder.com
Original Link: Julian Assange arrested at Ecuadorian embassy
join the Hawkins Bay Revolution
before it is too late
Read
James Porteous