'Is this helping climate change?'
Seriously?
When was the last time you saw Climate Change featured on the morning news programs?
When was the last time you saw Climate Change featured on the front pages of newspapers?
These might be 'activists' but they are not stupid. They know that words are words and actions are actions. Words rarely lead to action. Action can lead to more action.
James Porteous 
17 April 2019  | Hawkins Bay Dispatch
So far at least 290 people have been arrested in the demonstrations that have centred on key landmarks in the capital.
Campaigners are to target the London Underground system as demonstrations continue in the capital aimed at forcing action on climate change.
The campaign group Extinction Rebellion said it is planning to "non-violently disrupt Tube services to highlight the emergency of ecological collapse" on Wednesday if the Government does not meet its members.
It added: "Participants will peacefully break the law in order to stop the Tube and then will wait to be arrested.
"We sincerely apologise to all those who may suffer as a consequence of this disruption. In any other circumstances we would never dream of disrupting the Tube but this is an emergency.
"We request that workers do not intervene in the protests to ensure that they go as smoothly and safely as possible for all involved."
So far at least 290 people have been arrested for taking part in the ongoing climate change protests in London as police say the demonstrations are causing "serious disruption".
The number of those detained surged on Tuesday evening after a police order came into force restricting protests to a site at Marble Arch.
Scotland Yard said demonstrations were banned in the Oxford Circus area of London.
However, groups still remain at other major sites including Waterloo Bridge, where 87 arrests were made on Tuesday afternoon after they were banned from that area.
Two arrests were made in relation to criminal damage carried out in the Lambeth area of London.
The Metropolitan Police warned that demonstrations are expected to continue "throughout the coming weeks".
In a statement it said: "Officers are out on the ground engaging with protesters and local communities to ensure proportionate policing plans are in place.
"There is a need to ensure the right balance is struck between allowing the right to peaceful protest, while disruption to communities is kept to a minimum."
A Transport for London spokesman said it was aware of plans for demonstrations on the Underground which may disrupt travel.
"The safety of our customers and staff is our number one priority and we're already working closely with the police to manage the impact on London's transport network.
"We would encourage people to check their journeys before they travel."
Twenty-nine people were arrested after hundreds of activists from the Extinction Rebellion Scotland group occupied Edinburgh's North Bridge, bringing traffic to a standstill.
Seventeen men and 12 women were arrested for breach of the peace and will appear in court in the coming days, police said.
17 April 2019 The Guardian
Climate change protesters, who police say have caused "serious disruption" affecting half a million people in London over the past two days, have said they are planning to escalate their protests to disrupt rail and tube lines.
Thousands of people have taken part in the civil disobedience protests, blockading four landmarks in the capital in an attempt to force the government to take action on the escalating climate crisis.
Now the activist group Extinction Rebellion says it is planning to step up its action to disrupt rail and tube lines in London.
A spokesman said: "People really don't want to do this but the inaction of the government in the face of this emergency leaves us little choice."
The mayor of London, Sadiq Khan, said that while he shared the passion of the protesters about the urgent need to tackle climate change he was "extremely concerned" about plans to disrupt the underground.
In a statement on Twitter he said: "Targeting public transport in this way would only damage the cause of all of us who want to tackle climate change, as well as risking Londoners' safety and I'd implore anyone considering doing so to think again."
On Tuesday, four sites – Marble Arch, Waterloo Bridge, Parliament Square and Oxford Circus – remained under the control of protesters, causing delays and diversions in the surrounding areas.
At least 168 arrests were made on Tuesday, the Metropolitan police said, bringing the total Extinction Rebellion related arrests since Monday up to 290.
Hundreds of Extinction Rebellion protesters were still dancing around a boat stage at Oxford Circus just after 10pm, as police tried – apparently in vain – to clear the area.
The events in London were part of an international "climate rebellion" organised by Extinction Rebellion. Organisers said demonstrations had taken place or were planned in 80 cities across 33 countries – from India to Australia, and around Europe and the US. In The Hague on Tuesday, activists occupied the international criminal court building.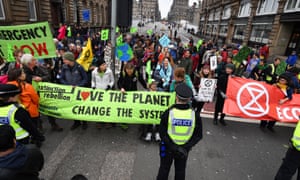 In Scotland, more than 1,000 protesters blockaded the North Bridge in Edinburgh, bringing one of the main routes into the city centre to a standstill. Police said they made 29 arrests.
The blockade began at 3pm, when groups of people on bikes converged from both sides of the bridge, before a human chain formed across the road.
At about 5.30pm, protesters crossed Princes Street and unfurled banners. Most were immediately carried off the road by police and six people were arrested.
The biggest protests have been in London, with thousands of parents and their children joining scientists, teachers and environmentalists to demand urgent action in the face of "possible human extinction".
Among the protesters was the prominent UN environment lawyer Farhana Yamin, who helped negotiate the Paris climate agreement. Just after 2pm, she glued her hands to the pavement outside Shell's headquarters near the River Thames.
Nearby, police moved on to Waterloo Bridge to begin a second wave of arrests as hundreds of protesters continued their blockade.
Some of those on the bridge had been locked or glued to a lorry parked across the carriageway since Monday night.
One of those glued to the underside of the van, Ben Moss, 42, a company director from Bristol, said he had been there since midnight on Monday. "It's drastic times and drastic times need drastic measures. I am taking personal action and personal responsibility for the ecological and climate crisis," he said.
By about 5pm, the atmosphere at Waterloo Bridge had calmed after police stopped arresting people.
On Tuesday evening, police turned their attention away from Waterloo Bridge to Oxford Circus. Officers circulated around the crowd in groups, informing people that if they stayed in that location they were at risk of arrest.
The Guardian witnessed at least one person being carried away, while others left the crowd voluntarily after speaking to police. "We are peaceful, what about you?" protesters chanted as police made an arrest.
Many protesters said they were willing to remain at the junction all night in order to hold the space.
Harriet Gold, 26, a student from Bristol, was among them. "I feel really confident," she said. "I was surprised to wake up to hear that they had Waterloo Bridge still."
Elmo MB, 20, was manning a wellbeing tent. He said he was not worried about the police order to leave the area. "I think breaking the law is the point," he said.
"There are lots of brave folk and a lot of people have been arrested so far, but they pull one person off and two people come back on. I'm not sure how long this will last, but I imagine it will last through the night."
Extinction Rebellion was formed in the UK last year and held its first civil disobedience protests in London in November. It is calling on the UK government to reduce carbon emissions to zero by 2025 and establish a citizens' assembly to devise an emergency plan of action to tackle climate breakdown and biodiversity loss.
The group wrote to Theresa May on Monday outlining their demands and asking for talks. In the letter, they said they would escalate their disruptive actions unless the government acted.
On Tuesday, Supt Colin Wingrove of the Metropolitan police confirmed a section 14 order was in place and called on the protesters to leave Waterloo Bridge, Oxford Circus and Parliament Square but they could continue their demonstration at Marble Arch.
"In order to impose this condition, the Met required evidence that serious disruption was being caused to communities in London. We so far have 55 bus routes closed and 500,000 people affected as a result … we are satisfied that this threshold has been met and this course of action is necessary."
join the Hawkins Bay Revolution
before it is too late
Read
James Porteous