Kami Rita (born 1970) is a Nepali Sherpa guide who, since May 2018, has held the record for most ascents to the summit of Mount Everest. Most recently, he scaled the mountain for a 24th time on 21 May 2019 breaking his record of 23rd Mount Everest Summit on 15 May 2019. His father was among the first professional Sherpa guides after Everest was opened to foreign mountaineers in 1950. His brother, also a guide, scaled Everest 17 times.

In 2017, Kami Rita was the third person to ascend to the summit of Everest 21 times, sharing this record with Apa Sherpa and Phurba Tashi Sherpa.[6][7][8] The latter two subsequently retired.[9]

On 20 May 2018, at age 48, Kami Rita became the first person in the world to climb Everest 22 times,achieving the record of the most summits on the 8,850-meter (29,035-foot) peak. In April of the year, he told the news media that he planned to scale Everest 25 times before retirement, "not just for myself but for my family, the Sherpa people and for my country, Nepal."  (Wikipedia)
15 May 2019 | BINAJ GURUBACHARYA  | AP via Denver Post
KATHMANDU, Nepal — Sherpa climber Kami Rita scaled Mount Everest on Wednesday for a 23rd time, breaking his own record for the most successful ascents of the world's highest peak.
Rita reached the summit with other climbers Wednesday morning and all of them were reported to be safe, said Gyanendra Shrestha, a Nepalese government official at the mountain's base camp.
Rita's two closest peers have climbed the 8,850-meter (29,035-foot) peak 21 times each, but both of them have retired from mountain climbing.
"It is my profession, but at the same time I am setting new world record for Nepal too," Rita told The Associated Press last month before heading to the mountain.
Rita, 49, first scaled Everest in 1994 and has been making the trip nearly every year since, one of many Sherpa guides whose expertise and skills are vital to the safety and success of the hundreds of climbers who head to Nepal each year seeking to stand on top of the world.
His father was among the first Sherpa guides employed to help climbers reach the summit, and Rita followed in his footsteps and then some. In addition to his nearly two dozen summits of Everest, Rita has scaled several other peaks that are among the world's highest, including K-2, Cho-Oyu, Manaslu and Lhotse.
Rita was at Everest's base camp in 2015 when an avalanche swept through, killing 19 people. After that tragedy, he came under intense family pressure to quit mountaineering altogether, but in the end decided against it.
"I know Mount Everest very well, having climbed it 22 times, but at the same time I know I may or may not come back," he told AP last month. "I am like a soldier who leaves behind their wives, children and family to battle for the pride of the country."
Rita has been an advocate for other Sherpa guides, who he said do not get the recognition they are due.
He said that before climbers reach the summit to take their photographs announcing their success, there are months of hard work done by Sherpas. The Sherpas are the ones who take care of setting up the camps, carrying the loads on their backs, cooking food and carrying oxygen tanks.
Perhaps most important, it is Sherpas who each year fix ropes and ladders over crevasses and icefalls that make things safer for the hundreds of climbers who will follow them.
"However, when these climbers reach the summit, only their names are highlighted and nothing mentioned about the hard work done by the Sherpas," Rita said last month.
Sherpa tribespeople were mostly yak herders and traders living deep within the Himalayas until Nepal opened its borders in the 1950s. Their stamina and familiarity with the mountains quickly made them sought-after guides and porters.
On Tuesday, it was a team of Sherpa guides who again were the first to reach Everest's summit this year, completing their advanced work of setting up ropes and lines.
There are 41 different teams with a total of 378 climbers who have been permitted to scale Everest during this year's spring climbing season. There are an equal number of Nepalese guides helping them to get to the summit.
Each May, there are usually only a few windows of good weather near the summit during which climbers can attempt to scale the peak.
Original Link: Sherpa climber scales Mount Everest for record 23rd time
21 May 2019 | BBC News
A Nepalese Sherpa has set a new Mount Everest record, making it to the top for the 24th time – with his second summit in only seven days.
Kami Rita Sherpa, 49, successfully scaled the world's tallest mountain on Tuesday morning.
It was his second record in seven days, having reached the summit for the 23rd time on 15 May.
He says he has no plans to retire, and hopes to clock up more ascents in the years to come.
"I can climb for a few more years," he told the BBC before the 23rd attempt one week ago. "I am healthy – I can keep going until I am 60 years old. With oxygen it's no big deal."
He first climbed Everest in 1994 and is a guide for international companies that organise climbing expeditions.
"I never thought about making records," he said. "I actually never knew that you could make a record. Had I known, I would have made a lot more summits earlier."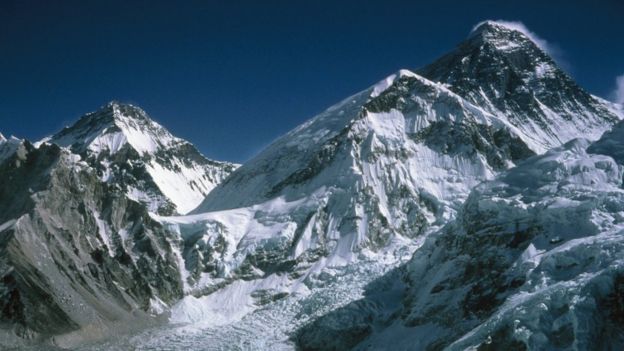 Foreign mountaineers usually climb Everest with the help of experienced Sherpas who work as guides preparing the route, fixing ropes and carrying supplies and oxygen.
"Sherpas fix ropes all the way to the top," Kami Rita explained. "So the Sherpas make their way fixing the ropes and the foreigners give interviews saying Everest is easier, or talk about their courage.
"But they forget the contribution of the Sherpa. Sherpas have struggled a lot to make it happen. We suffer."
He added: "In every mountain there is a goddess. It's our responsibly to keep the goddess happy. Months before I start an ascent I start worshipping and ask for forgiveness because I will have to put my feet on her body."
On the list of the highest number of Everest ascents, Kami Rita Sherpa is trailed by three climbers who all have 21 successful ascents each.
Two of them have retired from mountaineering, while the third, 39-year old Ngima Nuru Sherpa, is attempting his 22nd summit from the Chinese side of the mountain this season.
Kami Rita Sherpa of Nepal has made a fresh world record of conquering the highest peak of the world Mount Everest. Kami Rita Sherpa, a 50-year-old veteran Nepali mountaineer, scaled Mount Everest guiding an Indian police team for the 24th time on Tuesday. He broke his own record for the most Everest ascents within a week.
Earlier, Kami Rita scaled Mount Everest on May 15 for the 23rd time. Kami Rita wants to climb Mt Everest for at least 25 times. On Tuesday, Kami Rita scaled the 8,848-metre high peak along with the Indian team. He became the only Mountaineer in the world to hold the record for most Everest summits.
According to Mingma Sherpa, Company Chairman at Seven Summit Treks, the Nepali veteran from Thame village of Solukhumbu district successfully climbed Mount Everest at 6:38 am from Nepal side. He said, "Kami Rita along with the Indian police team from the Seven Summit Treks expedition has stood atop the roof of the world."
Gyanendra Shrestha, a liaison officer at the base camp, said that he started his summit push from Camp IV on Monday night and reached the summit point on Tuesday morning. Kami has already climbed most of the peaks above 8,000 metres, including K2, Cho-oyu, Lhoste, and Annapurna.
It is notable that Kami has been climbing Mount Everest since 1994. He could not climb Mount Everest in 1995 after his client got sick on the way to the summit. In 1995, he abandoned the summit bid after the deadliest avalanche killed expedition teams.
According to Nepal Department of Tourism, more than 4,400 people have scaled Mount Everest so far. First of all, Edmund Hilary and Sherpa Tenzing Norgay conquered the mountain in 1953.
---
join the Hawkins Bay Revolution
before it is too late
Read
James Porteous